New hope for East Yorkshire barn owl population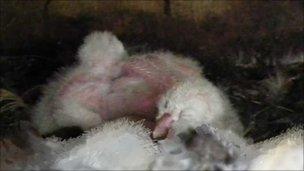 The last surviving barn owl at a Driffield nature reserve has found a mate and produced a brood of five chicks.
The male owl at Top Hill Low Nature Reserve was the only one of six breeding birds to survive through the winter.
The chicks were born some time early last week in a special bird box on a restricted part of the reserve.
Their progress is being monitored by wildlife experts from Natural England.
Due to the large decline of the local owl population, staff at the reserve were surprised the male was able to find a mate so quickly.
His previous breeding partner was found dead in a nest box last November.
Until the recent bad weather, the Yorkshire Wolds was considered a stronghold for the barn owl.
A strategy of building nest boxes and encouraging farmers to leave part of their land wild, to provide a habitat for mice and other food sources, saw a doubling of the population over the last few years.
Richard Hampshire, warden at Top Hill Low Nature Reserve, said the winter had set back the breeding programme.
He said: "We've lost a lot of our barn owls around this region over the course of the last two bad winters."
During the worst of the weather, staff fed the owls with voles and mice.