Maureen Lipman is new ambassador for Dove House Hospice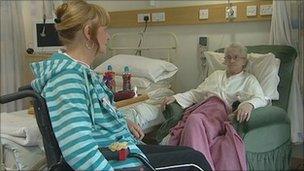 Hull born actor Maureen Lipman has become an ambassador for Dove House Hospice.
Founded in 1983, the charity provides care and support for people with life-limiting illnesses in Hull and East Yorkshire.
The star of stage and screen said she was supporting the project because of personal experience.
Her husband, screen-writer Jack Rosenthal, died of cancer in a north London hospice in 2004.
Recalling her husband's illness, she said: "There was something completely cuddling, comforting, holding about the hospice."
"These are places of life, not of death. Although, death is part of it.
"If you are going to have a quality of life and have a dignified and peaceful calm death with your family, that's the place to do it."
The actor's role will be to promote and support the charity at public events.
The care centre in east Hull relies on public donations to fund the majority of its £3.3m annual costs.
It receives a grant of £777,000 from the NHS and two local councils, which fund its operation for 81 days.
Anna Wolkowski, director of of clinical services at the hospice, said that rising inflation had put pressure on the budget.
She said: "Although we haven't had any actual cuts in our statutory funding, the very fact that costs are going up all the time mean that, because our funding has stayed the same, technically it's really a cut."
The hospice is about to expand its Chamberlain Road centre with a £5m development, providing additional in-patient beds and extra support facilities.
Related Internet Links
The BBC is not responsible for the content of external sites.