Paralysed Grimsby motorcyclist urges road caution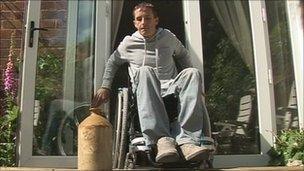 A Grimsby man paralysed in a motorbike accident has urged road users to take care as the biking season begins.
Andrew Baines, 35, was a motorcycle riding instructor, but an accident in East Yorkshire left him in a wheelchair and unable to ride.
Mr Baines sustained a double pelvis fracture, a spinal fracture and a groin injury in the crash in May.
He said his injuries were "an endless list" which had impacted on the whole of his life.
As more riders take to the roads for the summer months, Humberside police have been running safety workshops at biker hotspots.
Sgt Chris Hood, from the force, said the workshops did not replace traditional safety policing.
"We are not looking at this instead of enforcement. It's part and parcel of it really."
Related Internet Links
The BBC is not responsible for the content of external sites.