Conservation project in Goole aims to boost water voles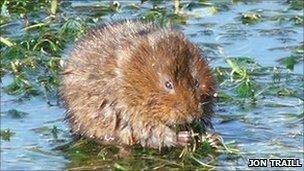 A new scheme near Goole is helping to preserve the habitats of rare and protected wetland mammals.
Water voles are rarely seen along the region's waterways but new research into their numbers, habitats, feeding and breeding sites is aiming to reverse this in East Yorkshire.
The Yorkshire Wildlife Trust is monitoring the population at Pasture Farm in Goole.
Four small colonies were found during a survey of the site last year.
A protected species since 1981, the number of water voles in the UK dropped by nearly 90% between 1989/1990 and 2006/7 partly caused by the introduction of the American mink, which prey on the small wetland mammals.
A loss of habitats has also led to shrinking colonies.
Tom Hayek from the Yorkshire Wildlife Trust has been studying water voles living in drainage ditches in the Goole Fields area.
He said: "Whilst Yorkshire as a whole was around the same [90% reduction], East Yorkshire fared better than average due to less mink activity than in other areas and better connected habitat due to the extensive ditch networks."
By working with landowners, he is hoping to help protect water voles already living in the area and is encouraging them to spread.
"We have a concept of Living Landscapes, which rather than just protecting individual sites we are looking now to protect the countryside as a whole. So farmland couldn't be more important."
Farm manager Euan Fraser said that knowing the location of the voles would help minimise the farm's impact on their habitats.
He said: "If they live near a culvert we have to be very careful, we'll even leave. If there's a large colony at one site we may have to work around that colony.
"Every year we have to carry a programme of drain cleaning. In the past, we've cleaned out both sides of the drain, which really upsets the water voles. So what we do now is select one site per year to clean."
The Yorkshire Wildlife Trust will be recording the water voles' movements at the farm, which will be used for research and educational purposes, allowing the public to catch a rare glimpse of the secretive creatures.