East Riding councillor Josh Newlove in university row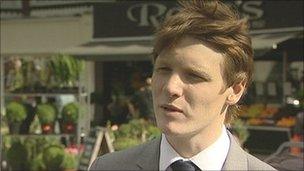 One of England's youngest councillors has been criticised by his political opponents in East Yorkshire after being offered a university place in London.
Nineteen-year-old Josh Newlove won a seat on East Riding of Yorkshire Council at the local elections in May.
The Labour councillor said he was now considering whether to accept a place at the London School of Economics.
The Liberal Democrats are questioning whether Mr Newlove can be an effective councillor whilst studying in London.
The teenager represents the Tranby ward which is centred around the village of Anlaby on the western edge of Hull and where the Lib Dems lost one of their seats in the election.
The party saw its representation on East Riding Council plummet from 13 to three councillors, while Labour gained three to six. The Conservatives tightened their control of the authority, gaining eight seats to 53.
Brian Jefferies, a Lib Dem councillor in the same ward as Mr Newlove, said: "The job is to be around, to represent local people, to represent their views and to help them.
"Somebody who is going to be 200 miles away cannot possibly do that.
"I assume this young man is now thinking about whether he should go to university, but at 19 he is obviously going to go within the next four years and clearly that is going to let the people of Anlaby down."
Mr Newlove said he was hoping to continue in education but "decisions still have to be made".
"The people that are in council tend to be there because they have retired and I don't think there's anything wrong with that," he said.
"It's probably because they've got time on their hands and they want to give it to their community.
"I think we need more young people in politics, but it is going to be a struggle, especially when balancing personal lives, academic lives and working lives."
Related Internet Links
The BBC is not responsible for the content of external sites.