East Yorkshire fishermen's fears over new catch quotas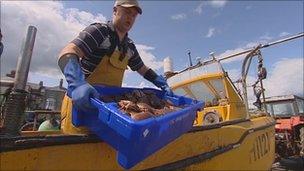 Fishermen in East Yorkshire have voiced concerns over government proposals to introduce catch quotas for shellfish.
The Department for Environment Food and Rural Affairs (Defra) wants to limit catches as part of new conservation scheme to protect stocks.
The measures, if approved, will base future quotas on a boat's previous fishing history.
Some fishermen claim the proposed limits would "kill" the local shellfishing industry.
Smaller boat owners say their catches are sometimes poor, due to bad weather or mechanical problems.
Under the new scheme previous catch sizes decide the new limit. Some fishermen fear this would penalise small boat owners and lead to restricted quotas that would be economically unviable.
David Speakman is a crab and lobster fisherman based in Withernsea. He said: "It's going to be ridiculous, it's not even going to be worth taking a boat out.
"Your gear costs you a fortune. It'll just kill us. They just want rid of us, that's all they want."
In response to the fishermen's claims a Defra said the changes would benefit the industry.
A Defra spokesperson said: "Fishermen need to be able to fish for a share of the catch at the most profitable time.
"The current quota system makes this difficult.
"That is why we are proposing to simplify the way quotas are managed, letting the industry plan better for the future and putting more control in the hands of fishing communities."
Some fishermen acknowledge that a change is needed. Gary Hodgson is the local representative for the National Federation of Fishermen's Organisations.
He said: "If we can get everybody involved in this process from start to finish then I'm sure we can get a scheme that works for everybody, that's more beneficial to the industry.
"It's time to stop saying no and try to get something that's beneficial to the industry and that will hopefully benefit the industry over the long-term."
The proposals are currently going through a consultation process. If given the go ahead they will be implemented in January 2012.
Fishermen are organising meetings along the East Yorkshire coast to discuss the plans.
Related Internet Links
The BBC is not responsible for the content of external sites.