Shortage of fish imports forces Hull auction closure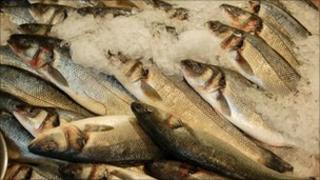 A fish auction market in Hull is to close with the loss of 16 jobs after a major fish importer announced a shortage in supplies.
Auctions at Fishgate on the city's William Wright dock have relied heavily on Icelandic imports.
But the supply company, Atlantic Fresh, said it had been hit by a supply shortage and would now only provide to Grimsby market.
Some fear the closure marks a blow to the region's fishing industry.
John Davis, the former editor of fishing industry publication Trawling Times, said a lack of whole fish entering the ports meant it was not economically feasible to have two markets on the Humber.
"It's much more profitable for the Icelanders to export the prime cuts and then retain the added value in the remaining products.
"So the value of whole fish coming through Hull has declined and has reached the stage where [fish auctions are] no longer viable."
Fish auctions have been held in Hull for more than a century.
Mr Davis said the closure was a blow to the region's fishing industry and its chances of survival.
"This is probably the final nail in the coffin of the British fishing industry and certainly marks the beginning of the end for the Humber.
"The reality is that switching to Grimsby you will still get some coming through but that will begin to decline as well for the same reason and eventually the Humber will just be a staging post on the fish supply chain."