Stowaways found at Port of Hull in back of a van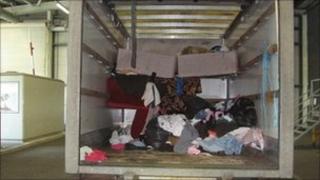 Nine stowaways were found in the back of a van that had left a ferry after it docked in Hull, the Border Agency said.
The group, all men aged between 26 and 51, said they were from Kuwait when they were found on Tuesday.
Officials from the agency said the men were in a van carrying clothing and had just left the Pride of Rotterdam ferry which had sailed from Holland.
The driver and passenger of the van were arrested on suspicion of facilitating illegal entry into the UK.
A spokesman from the agency said steps were being taken to deport the men.
He said: "We will now take steps to remove the nine stowaways and our specialist investigators will also go after those behind this illegal trade in human lives."
UK Border Agency officers said an array of search techniques were used including detection dogs, carbon dioxide detectors, heartbeat monitors and scanners as well as visual searches to find stowaways, illegal drugs, firearms and cigarettes.