Epworth policeman's pigeons to help excluded teenagers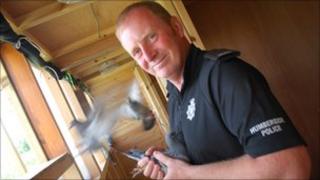 A project involving pigeons in North Lincolnshire is aiming to get excluded teenagers back into learning.
Police officer and life-long pigeon fancier Mick Tune, 44, realised that his hobby could help youngsters who are struggling at school.
He created the Flying High project eight weeks ago to give teenagers focus and direction in life, he said.
It has been inspired by a similar project in Scotland.
Teenagers are learning about maths, geography and science all through the power of racing pigeons.
"They [teenagers] learn how to handle them, how to feed them and what constitutes the food - the proteins, the carbohydrates and things like that," said Pc Tune.
"As the birds start getting into an exercise and training regime for racing, the lads will learn geography - where the birds are flying from and mathematics for calculating the speed of the pigeons to cover the distance."
Youngsters attend to the flock, which are kept at a loft at Pc Tune's home in Epworth, twice a week.
All 28 pigeons have been donated, including some by the Wetherby Young Offenders' Institute and The Queen's loft at Sandringham.
Life skills
Kieran Robinson, 14, helped to build the loft. He was surprised to find that Pc Tune had a passion for pigeons.
"I didn't think the police did anything like this. I just thought they were out catching criminals not racing pigeons," he said.
Within six weeks of attending the project, Kieran said it had helped with his learning and skills development.
"It's more of a learning type of thing for us here. About these pigeons, how you have to control them and look after them… You don't get to do this kind of stuff at school," he added.
Pc Tune said he had also seen a marked improvement in the youths' social skills.
"It's worthwhile and rewarding to see the lads grow in confidence. A lot of them have grown in that respect and they interact really well with a lot of people," he said.
Aside from the learning and personal development, Pc Tune said the project had helped to build a positive relationship with the force.