Three hurt in Scunthorpe Pods Leisure Centre explosion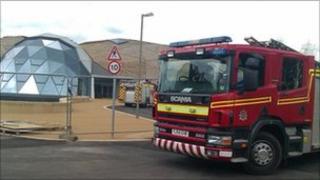 Three men have been injured in an explosion at a newly-built leisure centre in North Lincolnshire.
Two men were taken to hospital after the blast at the Pods Leisure Centre, in Scunthorpe, on Saturday morning.
The men were contractors working on the site and were said to be suffering from cuts, bruises and the effects of potentially inhaling chemicals.
Fire investigators believe a chemical reaction led to a build up of pressure in the swimming pool filtration system.
Humberside Fire and Rescue Service said there was no danger to the public and the explosion was contained in a single room.
The reason why the pressure built up and exploded has not been established.
The chemicals involved are those commonly found in swimming pools.
A high concentration of chlorine was discovered in the plant room.
Paul McCourt from the fire service said: "Incidents of this nature are fortunately quite rare.
"They do occur but they are everyday chemicals that are used throughout every leisure complex in the county. So they are substances known to us that we are equipped to deal with."
The £21m council-run leisure centre was due to open to the public on 4 July.
It is not known if the opening date will be affected by the explosion.
The centre, near Ashby Road, is made up of five pods and has been designed to blend into the surrounding landscape.
The investigation has now been passed from the fire service to North Lincolnshire Council.
A council spokesperson said the site would be closed until Monday to allow investigations to take place.