MP Graham Stuart defends free road surfacing claim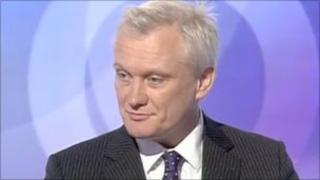 A Conservative MP whose wife asked for the road outside their East Yorkshire property to be resurfaced for free has defended her request.
Graham Stuart said his wife Anne had asked East Riding of Yorkshire Council contractors to surface the private road with any spare tarmac.
In a statement, the Beverley and Holderness MP said his wife's actions were "inspired".
The council said the work had not cost them or the taxpayers any extra money.
Mr Stuart, the chairman of the Commons Education Committee, said: "My wife saw the road workers on Hengate and told a workman that if they had any spare tarmac they would be welcome to put it in the potholes of Seven Corners Lane.
Disposal costs
"The workman said that they might, as it could cost the company money if they had to dump it.
"My wife cycled off and on returning home was delighted to see that they had laid a path of tarmac on the worst stretch of the lane."
He added that at "no point did my wife identify herself to the workmen, give her name or mention who she was married to".
A spokesman for Galliford Try, the contractors hired by the council, said it was standard practice to make local arrangements for the disposal of "blacktop" - left over tarmac - which normally cost money to get rid of.
He said where possible blacktop was given to farmers or was used locally.
A spokesman for the House of Commons said the situation would only be investigated if a formal complaint was submitted to the Parliamentary Standards Commissioner.
She said correspondence about the road had been received, but no formal complaint had been lodged.