Hockney's largest painting draws huge crowd in Hull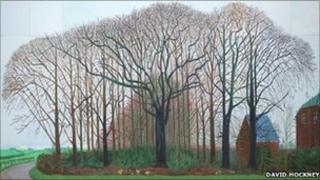 Thousands of people flocked to see David Hockney's largest painting during its first weekend at a Hull gallery.
More than 2,000 people visited Hull's Ferens Art Gallery last weekend to see David Hockney's biggest painting to date, Bigger Trees Near Warter.
Assistant curator Claire Longrigg said: "We had 2,310 visitors in the first weekend. We would normally get 300-500 over a weekend."
Queues formed for the exhibition which was also attended by the artist.
Ms Longrigg said: "To have David Hockney himself at the gallery was fantastic and the visitor numbers exceeded our expectations. Everyone has been so enthusiastic about the exhibition and it's great to know that it is such a popular picture."
Bigger Trees Near Warter, which measures 40ft by 15ft (12m by 5m), depicts a landscape scene near the East Yorkshire village of Warter.
It was originally exhibited at the Royal Academy's Summer Exhibition in 2007, before the artist donated it to the Tate.
The painting is on show at the Ferens Art Gallery until 18 September.