Price family jailed for defrauding elderly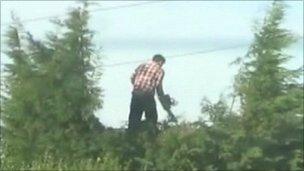 Trading standards officers have said the jailing of five members of a family for conning elderly people should mean similar cases are taken more seriously.
The Price family, from Brigg in North Lincolnshire, overcharged their victims for gardening or roofing jobs.
They carried out "ruthlessly executed" fraud, Teesside Crown Court heard.
Ruth Andrews, of North Yorkshire Trading Standards, said she hoped the inquiry she led would mean similar crimes would be taken seriously.
She described the 18-month-long Operation Violet as "the biggest investigation we have undertaken to date".
"It's extremely upsetting to see the effect it has on victims and it is completely unacceptable," she said.
"Reaction from the victims varies - some are embarrassed, some are deeply upset and a lot of them feel nothing could be done and didn't report it to us.
"We hope this case demonstrates we are determined to bring these types of case to court and secure justice for the victims."
Gang leader David Price Snr, 42, was given a sentence of seven years and eight months.
His sons Abraham, 20, and David Jnr, 19, were sent to Young Offenders' Institutions for three years and eight months and three years and four months respectively.
Angelina Price, 40, the leader's wife, was jailed for 16 months and his brother Shane, 41, was sentenced to three years and four months.
Family associate James Cunningham, 26, from Castleford, West Yorkshire, was jailed for five years and four months.
David Price Snr, Abraham Price, David Price Jnr, Shane Price and Cunningham had admitted conspiracy to defraud at an earlier hearing.
The gang boss also admitted money laundering and stealing £600 from a 96-year-old blind woman.
His wife Angelina, their sons Abraham and David Jnr, and Cunningham admitted money laundering.
Sentencing them on Friday, Judge Howard Crowson said: "This fraud involved a well-organised, planned and ruthlessly executed course of conduct."
The gang preyed on at least 81 victims who came from Yorkshire, Derbyshire, Staffordshire, Nottinghamshire and as far south as Essex.
The court heard they conned or tried to defraud them of £175,645, according to the charge sheet.
However, the prosecution accepted the real number of victims and the scale of their losses was incalculable.
A Proceeds of Crime Act case will be heard next year with an early estimate of the claim being more than £1m.
The Prices came to the notice of trading standards officers after a spate of doorstep cons in the Thirsk area of North Yorkshire was reported in May 2009.
The Prices had set up an illegal camp at Dishforth beside the A1 while making their way to the Appleby Horse Fair.
The investigation spiralled and led to 100 Humberside Police officers raiding their site at Brigg.
Related Internet Links
The BBC is not responsible for the content of external sites.