Humber Bridge marks 30 years since official opening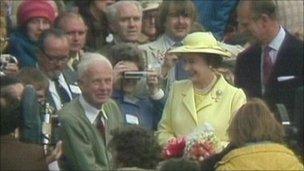 Sunday marked the 30th anniversary of the official opening of the Humber Bridge by The Queen.
The 2,220m (7,283ft) long structure cost £90m to build, but its debt now stands at more than £330m.
The cost of a single crossing will rise from £2.70 to £3.00 per car in October, making it the UK's most expensive toll.
But on 17 July 1981 thousands of people turned out to celebrate the opening of what was then the longest single span suspension bridge in the world.
Driving across the new bridge was, for some, a daunting experience.
Helen Turney, from Hull, who was one of the first to cross the bridge on a bus, said: "I didn't realise that it goes up quite so far before you start to go across and then being on top of a bus as well it was a long way down.
"It suddenly occurred to me that they had just finished building this bridge and we were driving across it for the first time and if it was going to break it was going to be now when I was on it.
"Of course, 30 years later it still hasn't done, so they did a good job."
Since then about 150 million journeys have been made over the Humber Bridge, which cut the road distance between Hull and Grimsby by nearly 50 miles (80km).
However, tolls have had to increase to help service the bridge's £333m debt, which has spiralled over the years as interest payments on the original debt outstripped operating profits.