Public event to discuss Saltend odour problem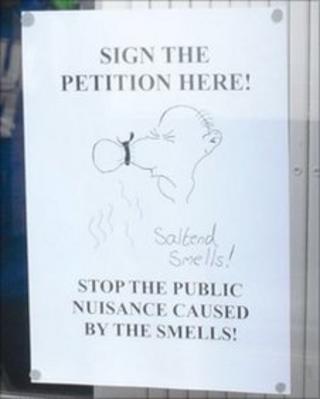 A public drop-in event is being held for residents concerned about odours from a waste water treatment plant in East Yorkshire.
The facility in Saltend is blamed for a smell of "rotten eggs" that affects the surrounding area.
MP Graham Stuart said his constituents were "fed up" with the smell.
Yorkshire Water, which owns the plant, is holding an event at Hedon Town Hall on Wednesday to discuss what is being done to tackle the problem.
An online petition has been started urging Yorkshire Water to act.
Earlier this month, the mayor of Hedon, Anne Suggitt, said the problem had been around for more than a decade and claimed it was making residents physically sick.
Mr Stuart, MP for Beverley and Holderness, said: "My constituents are fed up with the smell.
"They want action and results but also to be kept informed.
"I welcome this move to allow residents to have their say on what has been a long-running saga in Saltend.
"It's no surprise to me that there is a petition, a website and a Facebook group with over 500 members urging Yorkshire Water to act.
"I hope as many people as possible take the opportunity to make their views heard on the Saltend stench."
Yorkshire Water has acknowledged the plant was to blame for the smell and said it was investing in new technology which would help reduce the odour.
Five hour-long sessions are being held at the town hall event, which runs from 15:00 BST 20:00 BST.