NHS trust abolishes parking costs for some patients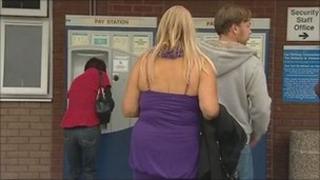 Patients with long-term illnesses will be able to park for free at hospitals in Grimsby, Scunthorpe and Goole.
Northern Lincolnshire and Goole Hospitals NHS Foundation Trust is abolishing charges for patients who need to attend hospital more than eight times a month.
The trust will fund the change by raising the cost of parking for other users.
Local patient campaign groups have welcomed the move.
The trust said it spends £1m a year to maintain the car parks at its hospitals.
It will raise parking charges from £1.50 to £1.75 to cover the cost of the new concessions.
Director of facilities and information for the trust, Nigel Myhill, said: "All in all it's about a balance. What we've also done is add concessions so people can buy weekly tickets and daily tickets.
"So that means they can come and go as they want. We think we may lose on that, but the general rise will help."
One beneficiary of the new scheme will be Carole Batchelor, whose disabled son Luke needs regular hospital treatment.
She said: "When Luke was first born and we were undergoing a lot of tests and investigations and appointments, we could have been at the hospital about four or five times a week.
"To find an extra £20 per week for parking just for hospital appointments and visits, it is quite a major thing."
Jenny Walton, chair of the Northern Lincolnshire and Goole Cancer Patient Involvement Group, welcomed the move and urged other hospitals in the region to do the same.