Old Goole residents' petition for independence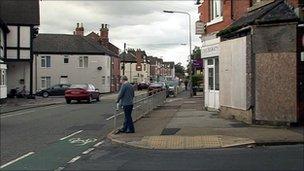 People in the old part of Goole are backing a campaign to split the town and form their own parish council.
A petition with 392 signatures has been submitted to East Riding of Yorkshire Council supporting independence.
The town recently entered a bid to become a city but campaigners say Old Goole is lacking investment and want to bring back its old community.
Justin Lancaster, 31, who initiated the petition, said: "There's a loss of heritage within Old Goole."
"The fact that buildings are disappearing at a fast rate and our community seems to be breaking up. One of the things that came from that was the possibility of forming our own parish."
Those calling for its own government believe the area is being overlooked when it comes to funding and regeneration.
Mr Lancaster said independence would mean residents would have responsibility for facilities and services. There would also be an increase in businesses and shops.
Mrs Avril Wakes, a resident of Old Goole and campaign supporter, said: "We seem to be a left out part of Goole and if we had our own community, it would be up to us what we did in Old Goole because a lot of [the area] is not being recognised at all."
However, not all residents living in the area feel the same.
Resident Karen Hammond, the manager of the Moorlands Community Centre in Old Goole, said: "I don't think we'll lose out at all. The Moorland Centre is absolute proof of that; we've been very successful in gaining lots and lots of grants.
"I don't think that we are the forgotten part of Goole. I think that Old Goole benefits greatly from some of the things in Goole."
Some living south of the Dutch River feel independence for Old Goole would not bring any benefits to the area.
Elizabeth Santos, a teaching assistant at a primary school in Old Goole, said: "I don't like the idea. I've never liked the idea of Old Goole becoming independent.
"I think Old Goole is part of Goole it needs to remain [that way]. I think if we make ourselves into a parish, it'll end up more expensive for [residents].
"I don't think people have looked into the ins and outs of the legalities of how much you'd be getting if you become a parish. I'm a staunch believer that we should stay as we are."