Christian music news Sep 2011 with Geoff Howlett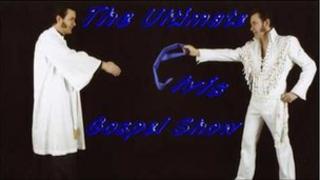 Hello, and welcome to our monthly round up of what's happening in the world of contemporary Christian music.
Although Elvis Aaron Presley died in 1977, his music lives on in the collective memory of millions of his fans worldwide, giving rise to thousands of 'tribute' acts - some good, others not so good.
The Reverend Steve Caprice is a free church minister based on the north bank who doubles as an Elvis Presley impersonator and is known as the 'Rockin Reverend'.
He will be appearing in a special one off Elvis Gospel Tribute Show on Friday 23 September 2011, 19:30 at Holy Trinity Church, Barrow-upon-Humber.
Steve has been a fan of Elvis since he was introduced to his music when he was seven and said his act inspired him to become a performer. The singing minister said a spell in the American Bible Belt had a profound effect on him, which was to change his life considerably in the following years.
Steve works for the UK Outreach Ministries and found part of his calling was to use his abilities as an entertainer to spread the word. Steve was the UK Elvis Gospel award winner in a competition in 2007.
His award was presented by Charles Stone, Elvis's tour manager in the 1970s, who was particularly pleased to meet Steve, telling him that he was one of the best Elvis impersonators he had ever seen.
theREIGN
theREIGN is pleased to announce the forthcoming release of their live album "96" on Saturday 10 September 2011, with a concert at St Barnabas Church in Swanland.
Recorded live at Withernsea United Reformed Church in October year, the album includes 13 audio tracks and some fantastic bonus material.
The launch concert begins at 18:30, entry is free, and it will provide an opportunity to say a final farewell to Paul and Kev as they leave the lineup once and for all, as well as a rousing hello to Rob and Simon as they fully take over the guitar and drumming duties.
There will also be a very special finale featuring the massed bands of theREIGN!
Presence 2011
Presence 2011 is a conference taking place at Hull's New Life Church over the weekend of 21 and 23 October.
Presence is the very breath of God at work in our lives, bringing grace to our race, peace to our souls, power to our purpose. This is a brand new concept, with exciting new ideas, fresh vision and a host of incredible speakers and worship leaders to help lift us into the presence of God.
Speakers include Bill Wilson, David Carr, Steve Uppal, Jarrod Cooper, and special guest worship leader Luke Finch.
There will also be a full children's event running alongside the adult version of Presence, for 3 to 11 year olds. To find out more, visit www.ilovechurch.co.uk
That's all for this month. But, let me remind you that you can hear all the latest contemporary religious music each week on BBC Radio Humberside by tuning in to the Sunday Breakfast Show just after 06.30.
Best Wishes
Geoff