Planning submission for £100m Brough housing project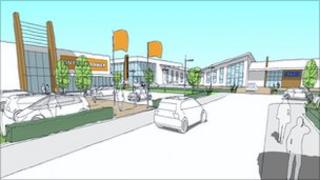 Plans for a £100m housing project in Brough have been submitted to East Riding of Yorkshire Council.
If approved, the development will see 800 new homes built and will create over 700 new jobs, according to developers.
The development will also include health and leisure facilities, as well as shops and offices.
The scheme is a joint project between Horncastle Group plc, Redrow Homes, Riplingham Estates Ltd and BAE Systems.
In a statement, the council said: "Last Thursday we received a planning application for a mixed use development on a site in Brough near Skillings Lane, south of the railway line.
"As well as approximately 800 homes, the application comprises business premises and retail outlets including a supermarket. The application has not yet been validated."
Managing director of Horncastle Group, Ian Hodges, explained: "As part of these plans we are proposing major junction improvements at the A63 Brough, Elloughton and Welton interchange to improve capacity, deal with existing congestion and improve safety.
"Phase one of the Brough relief road has already been constructed and phases two and three will provide an important link to Skillings Lane and BAE Systems.
"Additional highway improvements would also be completed as part of Brough South, including increasing capacity of the roundabout linking Moor Road and Welton Road."