Union at BAE Brough plant calls for action on job cuts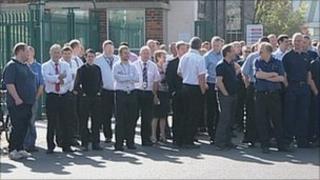 Local and national union leaders have called on workers at BAE Brough to fight proposed job cuts.
The East Yorkshire factory will lose 900 jobs from its 1,300-strong workforce.
The head of the Unite union called for the workers to carry out a campaign of "civil disobedience" to protect their jobs.
BAE Systems said the redundancies were needed so that the company could maintain competitiveness.
Workers staged a protest outside the factory gates on Wednesday afternoon.
One of the participants, Neil Daw, a local official with Unite, said: "They [the staff] need to be up for a fight. Because, if they are just going to sit down and lay down there is going to be no chance of saving any other jobs."
Speaking at the Labour Party conference in Liverpool, Unite general secretary Len McCluskey said the workers should take action, within the law, to protest against government defence cuts.
"Absolutely we should be considering civil disobedience," he said, "so that we can persuade this government to take a step back and to do things in a more civilised way and to invest our communities and not break them."
BAE Systems said it had to cut jobs to "ensure its long-term future".
The company is due to start a 90-day consultation with unions and workers.