Lincolnshire Council submits Humber Bridge buyout bid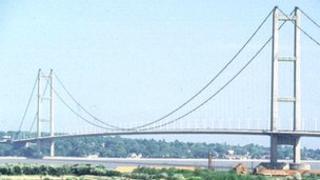 A last-minute bid to buy the Humber Bridge's debt for £100m has been made by North Lincolnshire Council.
Brigg and Goole MP Andrew Percy, who is backing the bid, confirmed submission of a plan to the Treasury.
Mr Percy said the council wants to reduce the toll from £3 to £1.90 after clearing a third of the bridge's outstanding £330m debt.
Hull Businessman Malcolm Scott and the Humber Bridge Board both expressed an interest earlier in the year.
Under the proposal, the council would lead a consortium of local authorities and private sector partners.
Conservative MP Mr Percy said: "What we're looking at is trying to deliver a solution that cuts the toll pretty much overnight with no extra risk to [taxpayers]. "
"This North Lincolnshire bid spreads the debt repayment over a longer period meaning that you could cut the toll to £1.90, possibly £1.50, immediately."
Mr Percy said the instant toll reduction would increase bridge use by up to 20%.
Similar proposals by Mr Scott and the Humber Bridge Board would reduce the toll to an average of £1 after eight years.