Blueprints of Scott's Discovery ship in East Yorkshire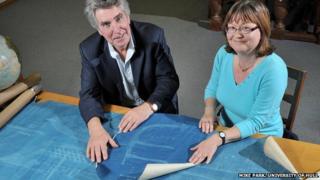 Original and rare blueprints of the ship Discovery, used by explorer Captain Scott for his polar expedition, have turned up in East Yorkshire more than 100 years after his voyage.
The blueprints are believed to be one of only two surviving sets in existence and show a detailed plan of the vessel used by Scott for his exploration to the South Pole.
The documents, which are roughly a metre long, were rescued from Goole Shipyard. It had intended to burn the prints - along with other paperwork belonging to the firm - following its closure in 1984.
Harry Smith, a draughtsman at Goole Shipyard, recognised the importance of the prints and saved them from possible destruction.
He stored them in his attic until his death six years ago when they were discovered by his daughter, Jean Cannon.
"There were two sets and he brought back both. At the same time he contacted the National Maritime Museum to alert them to the blueprints. They took away one full set and the other stayed at home," said Mrs Cannon.
"If it hadn't been for my dad there wouldn't be this set. It would have gone up in smoke."
The blueprints were brought to light last month when Mrs Cannon, who is studying local history at the University of Hull, decided to show her lecturer and maritime expert, Dr Robb Robinson.
'Very excited'
He said: "I was amazed by these blueprints, they really are beautiful.
"These are the blueprints which built the ship, that launched the golden age of polar exploration.
"And there's a strong connection with Hull and East Yorkshire because the man who ordered the ship was Sir Clements Markham, who was a geographer and Royal Navy officer from Stillingfleet in East Yorkshire."
The RRS Discovery was built in Dundee for the British Antarctic expedition of 1901-04 and the documents of the vessel were sent to the sister shipyard in Goole.
Much of the funding for the construction of the ship came from Llewellyn Longstaff, the former president of Hull Chamber of Commerce and owner of Hull-based Blundells Paints.
Whilst the blueprints remain in Mrs Cannon's possession, the family have yet to decide what to do with the documents.
However, news of the plans has caught the attention of a charity in Dundee which looks after the Discovery.
Gill Poulter, from the Dundee Heritage Trust, said: "We were very excited when we got the initial phone call from Dr Robinson about the ship plans.
"We would certainly be interested in having them for the museum as we don't currently have any original plans from the building of Discovery in our collections.
"The plans would be a fantastic resource for interpretation, education and research and they would also potentially help us to understand more about the complex construction of the vessel, vital when undertaking conservation work."