Hull primary school teachers resign after Facebook comments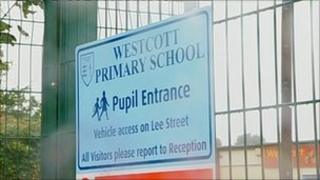 Two teachers at a primary school in Hull have resigned after pupils were allegedly labelled "thick" and "inbred" on Facebook.
Head Debbie Johnson and teacher Nyanza Roberts left Westcott Primary School following an investigation.
Mary Wallace, the chair of governors, said in a letter to parents, that the two had "decided to relinquish their posts".
Nobody at the school was available for comment.
In the letter Ms Wallace said: "For the other members of staff involved in this matter, this [investigation] has now been concluded under the school's Disciplinary Procedure".
She said the school, which came out of special measures in October, would be run by deputy head teacher Chris Roe until a permanent head could be recruited.
In a statement, Hull City Council said: "We are continuing to support the school and will now focus on moving forward to ensure that children get the best possible standards of education.
"For legal reasons we are not able to go into any more detail."