Blind baby 'youngest to have corneal transplant'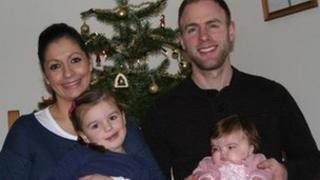 A blind baby has become the youngest patient in the UK to have a corneal transplant, her doctors have said.
Four-month-old Eva Joyce, from Scunthorpe, North Lincolnshire, was born with Peter's anomaly, a condition which makes the cornea cloudy.
Donor corneas were grafted on to Eva's eyes during two operations at Birmingham Children's Hospital.
It said Eva was the UK's youngest corneal transplant patient. Her family said they felt "incredibly lucky".
The first operation took place when Eva was just two-and-a-half weeks old.
Her mother Harriet, 33, said: "When Eva was born and eventually opened her eyes, we realised that her corneas were cloudy.
"We weren't overly concerned, and it wasn't until we were referred to a hospital in Sheffield the following week and Eva's eyes were tested that we realised that she had no vision at all. She was blind.
"We were devastated. For the next 24 hours of her life, we thought she would never be able to see. We were referred to Birmingham Children's Hospital where we were told that there was something they could do.
"We feel incredibly lucky that someone has made the decision to donate organs to help people like Eva in what must be extremely sad circumstances."
Eva will be given an anti-rejection drug every day for a few years and hospital staff will monitor her eyesight until she is 16.
Consultant ophthalmologist Manoj Parulekar said: "We are delighted that Eva is doing so well and we are hopeful that her sight will develop as normal.
"We look forward to seeing her grow up and do all the things her friends and big sister can do."