Electrification plans for Hull to Leeds rail line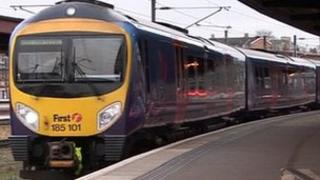 Plans to electrify the train route between Hull and Leeds are to be investigated by Network Rail.
The government set out proposals last year for lines between Leeds, York and Manchester to be electrified as part of the National Infrastructure Plan.
It has since asked Network Rail to conduct a feasibility study into the line between Hull and Leeds.
If electrification of the route is approved, it would mean faster journey times between the two cities.
It would also mean improvements to the route's train signalling system.
In a statement, a spokesman from Network Rail said: "Following the announcement from government regarding TransPennine electrification, Network Rail is completing high level investigations into the feasibility of electrifying a number of additional arterial routes, including to Hull.
"This work will help to inform future plans for the network and will be reported back to the Department for Transport in due course."
Adam Fowler, from The City of Hull and Humber Environment Forum, which is involved in promoting public transport across the region, said: "Electrification brings cleaner, greener trains with faster journey times.
"Better rail services provide a more viable alternative to the congested M62 motorway and importantly provide greater commuting opportunities for people living in East Yorkshire.
"The prosperity and well being of an area is often measured by its transport access."
The National Infrastructure Plan will be financed by British pension funds and private investment, as well as from further cuts in the present spending round.