Waste firm ordered to reduce rubbish tip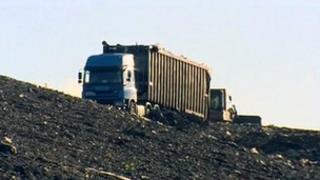 A waste company has been ordered to reduce a huge rubbish tip next to the M62 in East Yorkshire.
The site near Gilberdyke has grown to more than double its permitted height of 14m (46ft).
The Environment Agency (EA) said an enforcement notice had been served to City Plant Ltd last year to reduce the amount of rubbish.
Residents have been calling for the agency and East Riding of Yorkshire council to take action.
The EA said two separate notices had been served last November.
In a statement, the EA said: "Over the last year staff at the Environment Agency has been working with the waste company to improve the way it operates, however, this has been complicated by a change in operators.
"In 2011, the amount of waste taken in was over the permitted level, a notice has been served to manage the amount of waste on site. City Plant Ltd must respond to the notices by the end of January outlining how they are going to operate within permitted levels."
'Higher and higher'
Neighbours said the smell from the tip has become unbearable and is affecting house sales.
Local resident Kevin Clifford said: "We have all the usual problems associated with a tip - the vermin, the litter, the smell. But the major problem is the height, which is just growing higher and higher.
"Up to 100 wagons per day - large wagons, eight wheelers - are running through the village spreading litter, dirt and muck.
"People who want to sell their house and want to move, they find their house prices have been downgraded by the tip."
East Riding of Yorkshire Council said in a statement: "The council is the enforcing authority for the height of the tip.
"The council is in discussions with the owners of the site, the Environment Agency and the local community through the liaison group to resolve the planning matters at the site including the height of the tip, operating hours and mud on the road."
The BBC has approached City Plant Ltd for comment but has so far not received a response.