Signs in Lincolnshire warn motorists of ice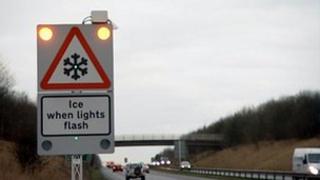 Six new warning signs have been installed on a North Lincolnshire road after black ice caused a 29-vehicle pile-up last year.
The ice warning signs have been created for the A15 carriageway between the Humber Bridge and Barnetby Top.
They flash to alert motorists when sensors detect road surface temperature has fallen below 2C (35.6F).
North Lincolnshire Council took action after about 26 people were left injured in the crash last February.
It is hoped the signs will reduce the number of accidents caused by black ice.
'False alarms'
Roy Hindmarsh, from North Lincolnshire Council, said: "When the lights flash that's when the temperature has got to below two degrees or less.
"It may not look like there's ice but if those signs are flashing, you must slow down."
The signs were installed on the carriageway last week.
John Drinkall, a commuter who has been using the road on a daily basis for the last 16 years, said there were drawbacks to the system.
He said: "They've only been up maybe a week or so now and there have been several occasions - today is another one actually - when although it's very cold, there doesn't seem to be any ice about on the road and yet the lights are still flashing.
"The worry there is that it isn't going to take very many false alarms for drivers to start ignoring them and as soon as they do that, then really it was a waste of time putting them in.
"But I think anything that helps drivers appreciate the conditions that they're [driving] in to has got to be a good thing."