Royal Navy's HMS Grimsby docks into home town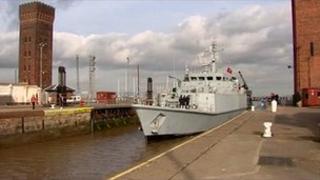 The Royal Navy's HMS Grimsby has docked at its namesake town for the first time in five years.
The public are able to tour the mine hunter on Saturday and 34 crew members are due to parade through the town on Sunday morning.
The ship's company held a formal reception for civic dignitaries and local schoolchildren on Friday evening.
HMS Grimsby arrived in the town at about 13:00 GMT on Friday and will stay for five days.
Lt Cdr Giles Palin said the visit was an opportunity for people to take a tour of the 14-year-old ship.
'Long tradition'
The Freedom Parade will take place through the town on Sunday morning, from the Town Hall, through to Grimsby Minster, starting at 10:00 GMT.
Lt Cdr Palin said: "After such an extended period since our last visit, I know my ship's company are delighted to be returning.
"This area has a long tradition of supporting the Royal Navy and during the Second World War I know Grimsby was used as a base for minesweepers patrolling the North Sea.
"I do hope that as many people from Grimsby - indeed, across Lincolnshire - come along on Saturday to tour the ship, meet the crew and learn a little more about life in today's Royal Navy."
HMS Grimsby was launched on 10 August 1998 and is the second ship to bear the name.
The original ship was stationed in China during World War II but sank in 1941 when it was attacked near Tobruk.
The more modern ship has returned from a three-year deployment to the Gulf.