HMS Grimsby crew exercise freedom of town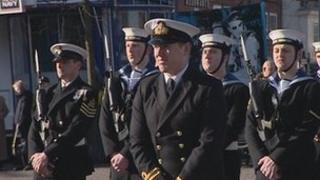 The crew of the Royal Navy's HMS Grimsby have exercised the freedom of the ship's namesake town.
A large crowd watched as 34 members of the ship's company marched from the Town Hall to Grimsby Minster on Sunday.
HMS Grimsby arrived in the town at about 13:00 GMT on Friday for the first time in five years.
More than 1,000 people took the opportunity to tour the 14-year-old mine hunter when it opened to the public on Saturday.
The crew of HMS Grimsby were awarded the freedom of the borough in 2001.
'10 feet tall'
Lt Nick Andrews, gunnery officer aboard HMS Grimsby, said the weekend had gone very smoothly.
He said: "It took a lot of preparation but the public response has been great. We had more than 1,000 people through the ship in only a few hours on Saturday.
"These home town visits are always enjoyed by the ship's company. To be honest you do feel 10 feet tall walking through the town centre."
Lt Andrews added: "You do go away for a long time and you do some dangerous and important work so it is nice to have that feeling that is appreciated and respected."
HMS Grimsby was launched on 10 August 1998 and is the second ship to bear the name.
The original ship was stationed in China during World War II but sank in 1941 when it was attacked near Tobruk.
The more modern ship has returned from a three-year deployment to the Gulf.