Goole man models Humber Bridge from 125,000 matchsticks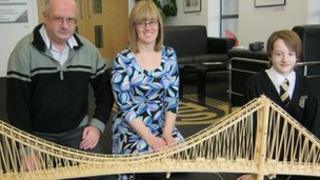 It has taken 16 months to build and an incredible 125,000 matchsticks. George Brown's 9ft long and 2ft high model of the Humber Bridge is a complete labour of love - and without a huge debt bill, unlike the original.
Mr Brown, a 52-year-old model hobbyist from Goole, East Yorkshire, crossed the bridge on a regular basis when he worked as a land hire manager and began building the model in 2008.
He used a scale-drawing of the 7,283ft-long suspension bridge and bought 10,000 bags of matches from a local model shop to construct his replica. This low-cost approach is a stark contrast from the real thing, which has recently had its outstanding debt of £330m halved by the government.
Mr Brown feared his project would never be completed when he suffered a stroke three years ago and just six weeks before he was due to finish the model.
Adjusting to life in a wheelchair and unable to move the right side of his body, he decided to give up the model until recently when a local school took interest.
His 12-year-old daughter, Bethany, picked up the baton and in two-and-a-half days Mr Brown's dream became a reality.
He said: "The model has been under cover in storage for the last two-and-a-half years.
"I'm really chuffed to bits now that Bethany has finished it. She's always been into making things using pipe cleaners and model clay."
'Incredible piece'
The finished replica, which even has traffic vehicles and dog walkers, will be on show at Goole High School.
Assistant headteacher Sharon Dunning said: "It's fantastic that students of generations to come will be able to see his inspiring creation.
"The model is an incredible piece of engineering. I'm sure our students and our staff are eager to take a closer look to see how remarkable the design is and the attention to detail that has been paid by Mr Brown."
So how does Bethany feel to see it standing proud at her school?
"It's just amazing to see it finished," she said.
"I'm really glad that it's going to be on display and that everyone at school will be able to see it."
Mr Brown may no longer be able to turn his hand to matchstick modelling but said he had "an amazing amount of knowledge and experience" that he would like to pass on to his daughter and to other youngsters.
Mr Brown said: "If you're going to go out, you might as well go out on a high.
"I've spent the last three years getting over my stroke. I know I'm not going to be able to make any more models and I have to accept that. But I can pass on my knowledge to my daughter even though I can't do it now."
The former self-employed handyman has created more than 50 models including a 6ft tall pylon, made using 20,000 matchsticks, which was on display at an exhibition in Germany, and a remote-controlled dalek.
Mr Brown said he hoped his swan-song model would be an inspiration for future artists and model-makers.