Work begins on River Hull walkway bridge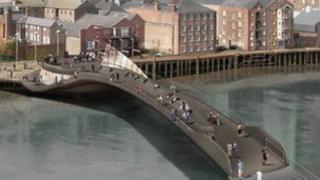 A bridge that allows people to walk on it while it is open for boats is being built in Hull.
Architects behind the River Hull pedestrian crossing believe the construction will be the first of its kind in the world.
Work has begun on the bridge, which is close to the existing Myton Road bridge.
It is expected that it will be completed by March and open to the public from May.
Architect Jonathan McDowell said the arm of the bridge would move clockwise, allowing members of the public to stay on the bridge while it opened to river traffic.
"It's a slightly unusual form for a bridge," he said.
"It's curvaceous, black and big. It's got a really large hub which could be used as a cafe, restaurant or exhibition space."
Mr McDowell hoped the bridge would become a memorable landmark which would bring people to the site.