DNA test on crash death man to prove he fathered son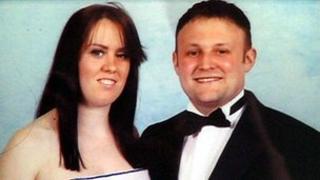 A family are calling for a change in the law after being forced to prove their dead son was the father of their grandchild.
Matthew Anderson died in a car crash in 2010. Three days later his fiancee Kirsty Barden gave birth to a son.
When the north Lincolnshire family tried to register the birth, they had to prove Mr Anderson was the father.
The Home Office said an unmarried woman must apply to court for a dead father's name to be on the birth certificate.
The family spent six months and thousands of pounds to prove Mr Anderson's paternity.
His father John said: "For his son to be denied his birthright seemed terribly cruel.
"We had to have a DNA test on the baby and with some of Matthew's remains that were left with the coroner, then go to court to get a judge to rule."
'Tragic cases'
In a statement, the Home Office said: "It is important accurate information is recorded on birth certificates and unmarried couples must both acknowledge paternity.
"In tragic cases such as this, it is a matter for the courts to determine what evidence is required in order that a father's name can be added to the birth certificate."
The family are now calling for the law to be changed and said they hoped they could stop others from going through the "unnecessary pain" they had had to endure.
Conservative MP for Sleaford and North Hykeham, Stephen Phillips, said: "Of course we need safeguards around the edges so you can't just declare who the father is.
"But as the law currently stands, this is something that's an added burden for families who've already had to prove an absolute terrible trauma."