End of an era for BAE aircraft manufacturing in Brough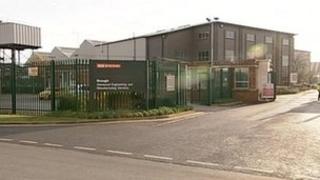 When BAE Systems finally closes the doors of its East Yorkshire factory next year, it will end nearly 100 years of aircraft manufacturing in Brough.
Not only is it a blow to hundreds of workers at the plant but also to those who have grown up in a town steeped in industrial heritage.
Aircraft manufacturing began in Brough in 1916 when aviation pioneer Robert Blackburn opened a factory for his Blackburn Aeroplane & Motor Company.
More than 80 different aircraft were built by the firm, including the Mercury, Buccaneer and the Swordfish, which was used during World War II.
After Robert Blackburn's death in 1955, the company was then acquired by Hawker Siddeley, which then merged into British Aerospace and later, BAE Systems.
Three generations of Lynne Reed's family have been employed at the BAE site in Brough since 1947.
Mrs Reed and her sister joined the company in the late 1960s following in the footsteps of her father, mother and aunt. She later met her husband at the factory and left in 1980 to have a son, who is now an employee facing redundancy.
"The Buccaneer aircraft brought me and my sister up and the Hawk's brought my son up," she said.
"It was fantastic working there. It was a hive of activity in the 70s. There were thousands working there at the time and it was like a community, one great big family. Unfortunately, that's been eroded over the last few years.
"I can't believe that it's actually closing. It's hard to take in. It's been a massive part of my family's life and I'm proud of its heritage."
'Real sadness'
BAE Systems announced plans last September to cut posts in Brough in order to maintain competitiveness. It had originally planned to cut 899 of the 1,300 posts in Brough, but last month it said 54 technical and engineering jobs would be saved.
Trade union Unite said it was "hurt" and "disappointed" by the defence giant's decision to end manufacturing at the Brough plant.
Works convenor Roy Cartwright, who has worked at the site for more than 40 years, said: "There's a real lot of sadness. To wake up in the morning and not come into work after 40 years, I'll be lost.
"It's been my life. I met my wife at work, my history's been at this site. I'm bitter against the company because I've put my life into this company and it's been thrown back at me.
"Without Brough [the factory] there's nothing, shops here have been kept going because of the company."
The union said it would continue its fight to save jobs at Brough by looking at other ways of keeping the factory running.
"Whilst we may lose BAE Systems' presence on the site in the way it's been for nearly the last 100 years, maybe there's other presence that could be here and most importantly jobs will be kept here, that's the ultimate goal," said union convenor Ian Gent.