Vivergo biofuel plant 'will boost wheat farming'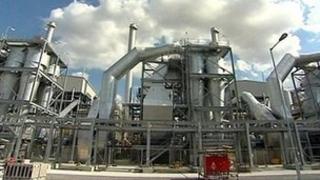 An East Yorkshire biofuel plant has told Yorkshire and Lincolnshire farmers that its use of locally-produced wheat will boost their businesses.
The area is one of the country's biggest producers of wheat, currently used for animal feed.
Vivergo at Saltend, near Hull, said it aimed to use 1.1m tonnes of wheat per year to make renewable fuel.
The high starch content of the region's wheat makes it ideal for bioethanol, the company said.
Farmer and National Farmers' Union representative Ian Backhouse said: "To have a customer on our doorstep taking the volumes of wheat they're talking about is really good news for local farmers."
Transport benefit
The company said the plant would open in late Spring 2012.
It chose the location near Hull because of the nearby port which would provide access to Europe, as well as the proximity to a wheat supply.
Bioethanol is made from the constituents found in wheat, sugar beet, corn and sugar cane.
These are fermented, distilled and dehydrated to make a renewable petrol substitute.
The plant at Saltend plans to turn wheat into 420m litres of bioethanol from the spring.
Up to 5% of bioethanol can currently be blended with regular fuel for use in any petrol-based car engine but this may increase to 10% to meet renewable energy targets, according to the AA.
Mr Backhouse, who runs a 1,000-acre mixed crop farm near Goole, said the bioethanol plant could mean that farmers will also find prices for animal feed decreasing.
Vivergo was at the centre of strikes in summer 2011 when the plant's construction fell behind schedule and more than 400 workers had their contracts terminated.