Hornsea campaigners angry over Floral Hall demolition plan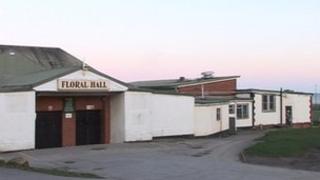 A £1.2m plan to demolish an East Yorkshire town's "only" entertainment venue to make way for a car park has angered residents.
East Riding of Yorkshire Council said the Floral Hall, in Hornsea - subject of discussions for seven years - was "in a dilapidated state" and losing about £100,000 a year.
The demolition plan is expected to be approved by the council on Tuesday.
Residents said losing the venue would leave the town with "no facilities".
In an open letter to leader of the council, the Save Our Floral Hall campaign group said: "The people of Hornsea cannot believe that you now have no plans for a new building in place of Floral Hall.
"This would devastate the town, leaving a town of this size with no facilities for the gathering of people for social activities."
'No understanding'
Councillor Barbara Jefferson said: "The hall is the complete hub of the community and I don't think the cabinet understands the feelings of my residents here."
The council abandoned plans for a new £5m entertainment venue, which had been approved in April 2010, because of a lack of funding.
Last October, Hornsea Town Council moved into a £500,000 building and 210-capacity community centre.
As a result, East Riding of Yorkshire Council argued that a replacement venue would be "hard to justify".
The council said it understood that residents would be disappointed but "a shortfall in funding since the recession" has meant that it had to re-evaluate which scheme "is important and the best value for money".