Plans for East Yorkshire's wildlife amid drought fears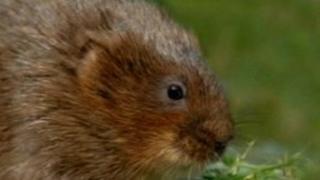 Plans are being prepared to deal with the effects of a possible drought on East Yorkshire's wildlife.
The Environment Agency said that birds, insects and amphibians could be "severely affected" if dry weather continues across the region.
The agency has announced plans to vary its licensing system to allow wildlife reserves to get access to new sources of water.
East Yorkshire is home to a number of nationally important bird reserves.
Caroline Comins, regional reserves manager at the Yorkshire Wildlife Trust (YWT), said that dry and wet seasons were a natural phenomenon and the trust tried not to interfere too much.
However, if water levels came under pressure from human usage they might intervene.
Ms Comins said: "Where we can manage water levels on reserves, such as at YWT North Cave Wetlands, we will look at how we can ensure habitats for wildlife such as wading birds remain viable through the dry season."
The Environment Agency said that nationally they had "already seen a number of fish deaths this year caused by dry weather" and were concerned for the wellbeing of "water voles, great crested newts, and wading birds such as curlews and lapwings."
Contingency plans includes allowing reserves to use unlicensed water supplies and increasing the amount of water pumped during rainfall.
Last week the Environment Agency warned that the current drought conditions in the south and east of England could spread to East Yorkshire if rainfall levels did not increase.