BAE Systems workers plan mass demonstration at AGM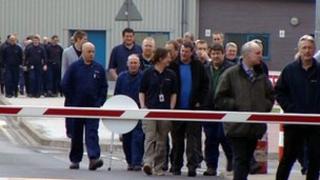 BAE Systems staff facing redundancy are planning a mass demonstration to fight plans by the firm to end manufacturing at its East Yorkshire site.
BAE confirmed 845 jobs would go at its Brough factory last month.
The company announced plans in September to cut posts in order to maintain competitiveness.
Staff and unions said they did not accept the proposal and would hold a protest ahead of BAE's annual general meeting in London on 2 May.
The defence contractor said no viable and practical alternative could be found during consultations with staff, unions and the government.
It originally planned to cut 899 of the 1,300 posts in Brough. However, in January it said 54 technical and engineering jobs would be saved.
Trade union Unite said "the fight wasn't over" and that it would make every effort to "keep work on the site".
'Not stupid'
Unite works convenor Roy Cartwright said: "We're going to target the AGM, we're going to see the chief executive and all the shareholders and we're going to tell them that their [BAE Systems] business case is flawed.
"It's not right what they're doing. We believe the costing and everything is wrong and we want them to reopen consultation and look at that."
Union convenor Ian Gent said: "We wouldn't be arguing for work that isn't there. We're not stupid. We know work is there. There's at least three to four years' worth of work."
At a meeting between staff and union bosses on Wednesday, more than 1,000 workers said they were in support of the protest action on 2 May.
Steve Turpin, a BAE employee for 25 years, said: "A lot of people have been waiting for the next step and hopefully everyone will get behind what [union bosses] wants to do next."