Hull secondary school sees pupils with reading age of five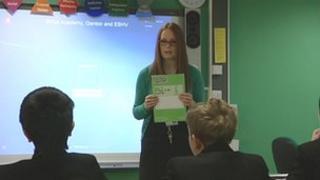 Almost one in 10 pupils are starting a Hull secondary school each year with the reading age of a five-year-old, a head teacher has said.
Dr Cathy Taylor, principal at the Sirius Academy, has employed a primary school teacher to improve literacy.
About 300 pupils join the school each year and about 25 of those had a reading age of five, she said.
Hull City Council is to give all schools in the city a £10,000 grant to improve literacy.
Department of Education figures show that 79% of Hull pupils leaving primary school have a reading age of 11 or above. The national average is 84%.
'Very low levels'
Ms Taylor said the average reading age of all pupils entering Sirius Academy compared to that of a nine-year-old.
But since September 2009, when it employed a teacher specialising in educating at primary level, the reading age had risen to that of a 10-year-old after the second term.
Literacy levels of those pupils who entered the school with a reading age of a five-year-old had improved after the first year, said Ms Taylor.
"They generally start Year 8 with a reading age of a nine or 10-year-old," she said.
"So they do make rapid progress but it's about having the necessary funds to invest in those children at an early stage.
"The issue is that they start school with very, very low levels of literacy and we're always making catch-up decisions so that we can pick children up and build on their basic skills."
Ms Taylor said the school also ran a dedicated literacy support programme for all pupils to help accelerate their reading irrespective of their abilities.