Students' concerns as Grimsby Institute drops A-levels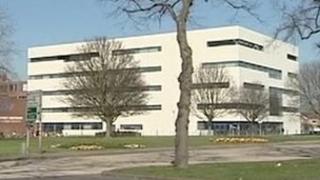 A North East Lincolnshire college is to stop teaching A-levels, forcing more than 70 students to go elsewhere if they want to finish their courses.
The Grimsby Institute said it would stop teaching A-levels from September so it could focus on high-quality vocational courses.
The move will affect 76 students who would have progressed to their second year of A-level studies next term.
One of them, Christina Flodman, urged the college to change its mind.
She said: "I just don't know why they've done it to us so late.
"With the exam boards they're not the same at every college so we'd have to start over again and do another two years which is holding us back from uni another year."
Open event
Georgia Grayburn, 16, said: "They should compromise with us but they won't allow it. They're not listening to us."
The college said it would also stop teaching most GCSE subjects from September.
Sue Middlehurst, principal and chief executive of the Grimsby Institute Group, said: "Our mission is to deliver accessible high-quality education and training and the decision to close our A-level provision and a number of GCSEs has been taken against this background.
"We will continue to underpin vocational courses with realistic working environments and ensure we fulfil the needs of our students through developing the attitude, skills and knowledge of our students for enterprise, entrepreneurship and employability."
She said students and prospective students who applied for September 2012 entry would be given information on options available to them either at the Grimsby Institute or at other colleges in northern Lincolnshire.
An open event for students and parents to get more information on the changes will be held at the Nuns Corner site between 17:00 and 19:00 BST on 17 April.