Humber Bridge toll reduction will 'boost economy'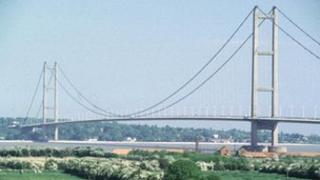 Chancellor George Osborne has said reduced Humber Bridge tolls, currently the UK's most expensive, will boost the local economy by £250m.
The tolls are due to halve to £1.50 from Sunday after the government cut £150m of the bridge's outstanding debt.
Mr Osborne said it would boost jobs and employment.
An opinion poll conducted for the BBC found 477 out of 500 people questioned believed reduced tolls would positively impact the economy.
Last year, the government cleared £150m of the £330m owed and earlier this year the four councils surrounding the Humber agreed to split the debt equally.
It came after lengthy campaigns by bridge users who argued the damaging impact tolls had on the economy and local people.
'Fantastic news'
With the reduction, a car driver who uses the bridge for their daily commute will save £15 a week.
Nathan Whall, sales manager for Keigar Homes, said it was expected the toll reduction would increase sales.
Mr Whall said a new housing development was on-going at a site in Barton-upon-Humber in North Lincolnshire and reduced tolls was a "significant move" for potential buyers.
"It will give people that flexibility to be able to now look beyond and further to where they may want to live."
He said there had been an increase in the number of inquiries from the north bank of the Humber since the announcement.
He said: "Costs nowadays are just increasing. We have something here that is fantastic news with the tolls coming down and I think it is enough to encourage people to look this side of the water."
Recruitment consultant Jenny Smithy said dropping the tolls would open up the jobs market on both sides of the Humber, enabling people to consider travelling further to work.
The poll, conducted by Gfk NOP for the BBC, also found that the majority of those respondents who use the bridge felt the main benefit to the reduction would be commuting and using it for leisure trips.
At present, Katie Harbour spends £108 every four weeks on crossing the bridge from North Lincolnshire to get to her job as a beauty therapist in Hessle.
"It's a lot of money but it's only 20 minutes away.
"It's going to be so much better for me now. I won't have to think whether I've got enough clients in to make sure I can afford to pay the tolls and petrol."
Julie Levsen, who lives in North Lincolnshire, said: "We'll go to The Deep more often, go to Leeds, all sorts of bits and pieces when it's a bit cheaper."