Wait for dead whale to beach in Humber Estuary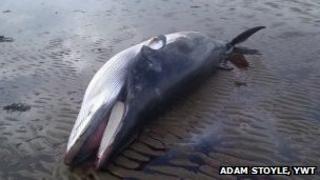 Veterinary specialists are waiting for a whale that died in the Humber Estuary to wash back up on the shore so they can carry out post-mortem tests.
The creature, believed to be a young minke, was stranded near Spurn Point on Sunday, the Humber Coastguard said.
The whale died at about 18:45 BST and was later washed out to sea by the tide.
The Yorkshire Wildlife Trust said the creature appeared to have suffered a serious trauma to its side and head.
The Zoological Society of London said its team of veterinary specialists would carry out tests once the whale had washed back up on the shore.