Hull's £6.3m learning disability facility nears completion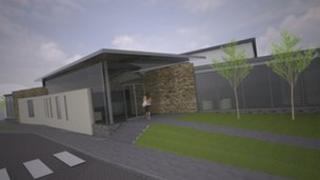 A £6.3m purpose-built facility in Hull for people with learning disabilities is nearing completion.
A topping out ceremony is due to be held later to mark the construction of the highest point of the building.
The 14-bed unit will offer inpatient treatment and rehabilitation services to adults with severe mental illness or those suffering extreme distress.
Designed by local architects, the Humber NHS Foundation Trust has described it as a "flagship" building.
David Snowdon, chief executive of Humber NHS Foundation Trust, said: "We are very excited about this new development.
"The building will be filled with natural light and has been designed with our patients' wellbeing in mind. Our staff and patients are very much looking forward to moving in."
Construction work of the building is expected to be completed by September.
The new building on Cottingham Road will replace an existing facility on the same site.