Clearing rubbish from A63 into Hull costs £45k a year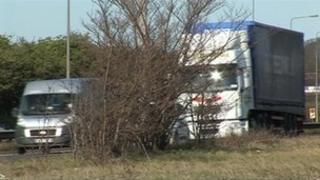 A council is spending about £45,000 a year clearing rubbish from one of East Yorkshire's busiest roads.
East Riding of Yorkshire Council said staff spent 10 weekends a year clearing waste from the side of the A63, the main road into Hull.
In the past two weeks, seven tonnes of rubbish, including hundreds of bottles of urine thought to have been discarded by lorry drivers, have been cleared.
The council urged motorists to report anyone they see littering the area.
John Skidmore, the council's head of streetscene services, said: "It's a significant problem because it's a gateway from Europe into the East Riding and we work on the A63, 10 weekends of the year, removing around 40 tonnes of rubbish from this 12-miles stretch and there's really no need for it.
"It's generally from motorists who are discarding food items, general litter, household waste. There's been three-piece suites, settees, debris from vehicles."
Clean-up 'dangerous'
Mr Skidmore said if offenders were reported the council would "pursue them through the courts where we have got the evidence".
Local MPs said the problem reflected badly on the area.
Karl Turner, Labour MP for Hull East, said: "If you get off the ferry it looks terribly unsightly, there's rubbish blowing around. It's certainly been mentioned by businesses that are very interested in investing in the area so we say it needs to be tidied up."
Andrew Percy, Conservative MP for Brigg and Goole, said: "It looks as though we don't care about the area."
Some residents have suggested that offenders on Community Payback Orders could help clear the road, but Mr Skidmore said that would be unsafe.
He said: "It's a very dangerous road with high-speed vehicles. We have to have speed restrictions, our staff need to be highly-trained."