Family's tribute to East Cowick crash victims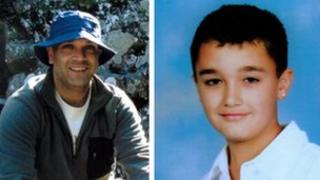 The family of a father and son who died in a car crash in East Yorkshire said their loss was "beyond belief" as the mother and sister recover in hospital.
Derek Sarkar, 46, and his son Ethan, 14, from Birmingham were killed in a collision on the A614 at East Cowick on Saturday.
Sheila Stavert-Lee, 70, from Wigginton near York, also died in the crash.
Mr Sarkar's wife, Karen, 43, and his nine-year-old daughter Abbie remain in Leeds General Infirmary.
In a statement, the family said they were "saddened and distraught" by the loss of Mr Sarkar and his son, from Sheldon Heath Road, Birmingham.
'Beyond belief'
"We are still shocked by the nature of the incident," they said.
"Derek was a wonderful father, husband and a lively and central part of our family. Ethan was at the heart of all our lives, their loss to us is beyond belief.
"We thank all Derek and Ethan's friends for their kind words, thoughts and support, they mean a lot to us and we know they will be missed by all of you.
"We also understand that there is a third victim in this tragic accident and our hearts and thoughts go out to her family and friends."
They said all their prayers and efforts were directed to supporting Mrs Sarkar and Abbie to make a full and speedy recovery and help them cope with their loss.
Mrs Sarkar is in intensive care and in a poorly condition while her daughter is described as stable.