Questions raised over length of Hull Marathon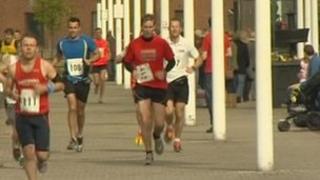 The Hull Marathon has had its distance certificate revoked after alleged problems with the route.
The Association of UK Course Measurers (AUKCM) said the route it measured and approved in October 2011 was not followed in the race on 8 April.
The association has also questioned whether the race was the full 26.2 miles (42km) required for a marathon.
The race organisers said "the change was made to the route to protect the safety of runners".
More than 1,400 people took part in the race.
AUKCM said they were notified of a potential problem on the day after the race was run, by the official who initially measured the course.
The association said it followed up the issue by checking the output of GPS devices worn by runners during the race.
After viewing the GPS traces on various websites, AUKCM said: "There is a significant difference (short) in Pickering Park, and two other points on the route where the measured line has not been taken."
As a result of its investigation, the association said, the "certificate of course accuracy for this race date is revoked".
Toro CSC, which organised the race, said in a statement on their website: "Following the final risk assessment ahead of the race a change was made to the route to protect the safety of runners, this change was both unavoidable and none (sic) negotiable.
"A further minor adjustment to the course was then made to ensure the correct distance of 26.2 miles was completed by all runners."