Pocklington town centre cleared after flash floods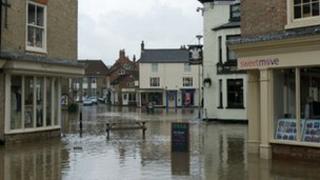 Businesses hit by flash flooding in an East Yorkshire town have reopened.
On Thursday shops and homes in Pocklington town centre were reported to be under 1ft (30cm) of water after the town's beck burst its banks.
Humberside fire service crews helped to pump water away from the area and East Riding of Yorkshire Council workers cleared debris from streets.
The council and Environment Agency said they were looking at how to prevent future floods.
Martin Cooper, from Pocklington Town Council, said the town had been hit by flash flooding in the past.
"It just descends all of a sudden," he said.
"We were monitoring it on the ground but within the space of about 10 to 15 minutes it just came up, and there was nothing we could do about it."