Spurn Point overnight rescue for Shamrock pleasure barge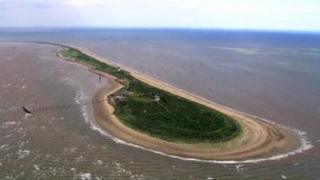 An 80ft (25m) steel pleasure barge had to be rescued off the East Yorkshire coast on Friday.
The Humber Coastguard said the Shamrock, probably a converted canal barge, had suffered engine failure.
Four crew were on board when the boat broke down off Spurn Point at the mouth of the Humber, at about 03:30 BST.
The barge was en-route from Goole to the Thames, but instead was towed to Grimsby Docks by the Humber Lifeboat to be repaired.
The Humber Coastguard covers an area from north of the Wash to the Scottish Borders.