BAE Brough staff to protest at company's London AGM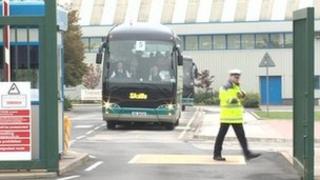 Nearly 600 BAE Brough workers threatened with redundancy have travelled to London to protest at the firm's annual general meeting.
BAE plans to end manufacturing in Brough, which makes the Hawk military training jet, next year.
The company said the closure, which would lead to 845 job losses, was necessary to maintain competitiveness.
BAE said it was working to try to find alternative work and opportunities for workers facing redundancy.
Ian Gent, of the Unite union, said he hoped to put questions to the board and planned to lobby BAE's major shareholders.
He said: "We hear this term of what is called 'responsible capitalism'. What we're seeing from BAE Systems, we believe, is behaviours that are irresponsible capitalism where it is purely and utterly about the bottom line."
Last month, BAE confirmed the job losses after a consultation period with staff and unions, but said there would be no compulsory redundancies before the end of the year.
In a statement BAE said: "As well as pursuing mitigation opportunities within BAE Systems, we are working with a number of organisations alongside our trade unions to find alternative work which will maintain our employees' skills in the manufacturing and engineering industries."