Calls for better flood protection in Pocklington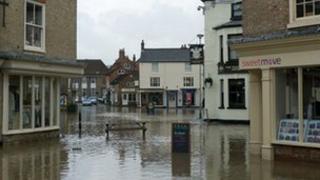 Shop owners in Pocklington have called for better defences to help protect the town from flash flooding.
Heavy rain caused the town's beck to burst its banks on 19 April, resulting in 1ft (30cm) of water in some shops and houses.
One shop manager said that defences needed to be improved to prevent future flooding.
The town's mayor said he was satisfied that the "drainage system is capable of taking the quantities of water".
Michelle Richardson, manager of the town's Sue Ryder charity shop, said initially she was worried that the flooding would be as bad as in the summer of 2007.
"I didn't expect it to happen again," she said. "To happen again is shocking really. They do need to be proactive and more should be done so it doesn't happen in the future."
Pocklington's mayor, Graham Perry, said that plans were being considered to develop a flood plain to the north of the town to try to soak up excess rainfall.
Mr Perry said that the town council would offer sandbags and other anti-flood devices to shopkeepers, who had to take precautions themselves.
He said: "If you are an owner or leaser of a property or shop in town you should weigh up the risk, the cost and take some action to protect yourself."
The Environment Agency said they were testing a recently-installed monitoring device in the Pocklington Beck which would send out a warning if water levels rose.