Hull scrap metal dealer's alternative to cash payment ban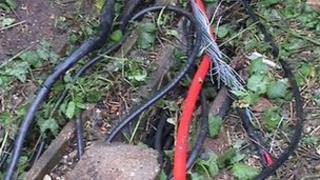 A Hull scrap metal dealer has called on the government to rethink its proposed ban on cash payments.
Home Secretary Theresa May announced the change in the law in January in an attempt to combat metal thefts.
Dealer Steven Robertson claimed the change would do little to reduce thefts and would force the crime underground.
British Transport Police said that the North East region accounted for 42% of the UK's rail cable theft, with over 1000 people arrested in 2011.
'Significant deterrent'
Mr Robertson has suggested an alternative scheme to the Home Office, a 10% tax levied on metal sellers which would go towards policing the problem.
He said: "There are people out there who will pay cash for metals, and they will continue to do so.
"Even though the law is against them, they'll still do it. It will just drive it underground."
In a parliamentary statement announcing the cash payment ban, Mrs May said a change in the law was the "only sustainable, long-term solution to the growing menace of metal theft.
"There is an urgent need to make stealing metal less attractive to criminals, and tackling the stolen metal market will act as a significant deterrent".